10 Questions To Ask Your Hairstylist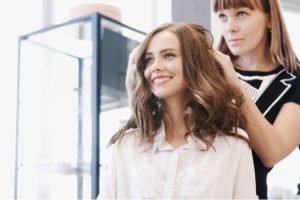 If you have a fine, thick, unmanageable, dry, or pretty much different hair texture, you might need to visit a hairstylist. Whether you decide to stick to one hairstyle or try out other looks, depends on your preferences. Your hair creates an impression of who you are. Consequently, you need to ensure you're getting value from each salon visit.
Below are 10 questions you should ask your hairstylist the next time you visit a salon.
1. How much training and experience do they have?
Hairstylists must be licensed in each state before they start working. A state-approved education program or apprenticeship must be completed before the hairstylist acquires a license. Inquiring about their experience and training is vital as it determines the quality of service you will obtain from the salon.
2. Are expensive hair care products worth it?
The quality of ingredients in professional and high-street hair brands may differ significantly. It is more cost-effective to use hair care that is tailored to your hair type. As such, it's important to invest in a professional hair care line. You should ask the hairstylist about which products to use for the greatest results.
3. What kind of products should I be using?
A professional hairstylist can also assist you in determining which products are appropriate for your hair type. Applying gloss/shine drops in conjunction with an external source of heat can help restore frizzy or dry hair that is damaged. A hairdresser may recommend the best products for your hair.
4. Do you charge extra for longer/thicker hair?
To avoid unnecessary extra expenses the next time you visit a salon suite ask them about their charges. You should ask the hairstylist whether they charge extra on thicker/longer hair instead of assuming that specific hairstyles cost the same.
5. How important is scalp health?
You may not know how hair and scalp health is important until you ask a professional stylist. You may even have your stylist rank your scalp on a scale of 1-10. If your hair is in bad shape, the hairdresser can suggest treatments and products that can help you.
6. Should I take vitamins
Hair that appears to be healthy or beautiful is regarded by many as a sign of health or beauty. Hair just like any other body part needs vitamins. But, before you think of getting vitamin supplements, ask your stylist if it will be worth it and if so, which ones they recommend you take.
7. What chemicals should I avoid in products?
Additionally, ask your hairdresser about chemicals/ingredients in hair products you should avoid. This is particularly important because the nutrients your scalp gets exposed to are absorbed into your skin. Some of them may be harmful to your hair.
8. What kind of hair type do I have?
Your type of hair determines the type of hairstyle and hair products that are best suited for you. Inquiring what type of hair may be useful. The hairdresser may suggest hair ingredients, styles, and cuts that are good for you.
9. What hairstyle would frame my face the best?
The hairstylist knows the best hairstyle that suits your face and they can advise you on the best hairstyle to choose. There are different shapes of face, including oval/diamond, square, round, long, and heart-shaped. An experienced hairstylist can tell you which type of face you have and the best hairstyle that will flatter your face.
10. How can I maintain healthy hair?
A professionally trained hairdresser knows the various tactics that you can employ to maintain healthy hair. They will tell you whether you need to trim your hair or not, and the best products that you can use to improve the health of your hair. Try asking them the next you visit their salon.
If you're looking for an experienced stylist in a convenient location, contact us today. We have salon suite locations with experienced stylists who can find the perfect look for your face and answer questions regarding your hair.