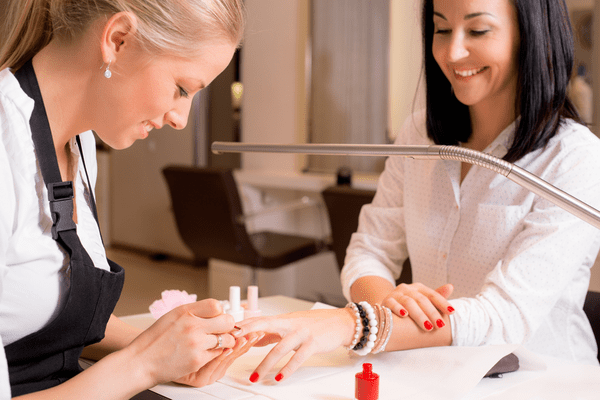 There are no limits when it comes to our nail art. Get a dazzling look with the latest 3-D décor or a nude polish if you prefer something simple.
Basic – Define the shape of your nails, apply a base coating, before layering it with coats of colored polish and a clear top coat.
French – Look stylish with a beige or pale pink polish applied over the nail and a dazzling white polish along the tip. You can never go wrong with this look.
Reverse French – The moon of the nail is painted crystal white and the rest has a slightly darker shade. The contrast is purely magical! Switch colors according to seasons if you prefer.
American – Rounds the tips of the nail, and uses neutral/off white colors instead of the drastic white. Can be made modern or classic depending on your preferences.
Gel – Long-lasting manicure without acrylic nails (that are easily damaged). Add an extra special polish cured under UV light protecting it from chipping.
Paraffin – Mainly suitable for people with dry hands, we will infuse your skin with moisture using paraffin wax, and a range of treatments like grapeseed oil.
Vinylux – For people who easily get bored. It's designed to stay on for not more than 10 days. It's a fast process and can be removed with normal nail polish remover.
Shellac – Uses a special base coat, with two layers of shellac nail polish applied. In between each step, a dryer is used for curing. It's also resistant to chipping and lasts for about 2 weeks.
Dip Powder – Quick to apply and requires less precision than others. The color it gives comes from pigmented powder, where you dip your nails in your color of choice. It's more comfortable and flexible.
Contact Imagique Salon Suites
At Imagique Salon Suites, you will always find something that suits your personal references. Don't hesitate to contact us. Nails say a lot about you and we can help bring that elegant damsel to life!