2022 Holiday Makeup Trends That Are Sure to Turn Heads
Each year, the holiday season brings a surge of new makeup trends and beauty looks that people love experimenting with. The 2022 season is no different, with many predictions of what will be popular. Metallic lids and glossy lips are expected to be all the rage and return to classic colors such as ruby red and soft pink.
Bold Blushes
Look centered around a bold blush is definitely in this season! With a range of colors and hues, you can add a pop of color to your cheeks and create a vibrant look. These rich shades will turn heads whether you prefer pale pinks or deep burgundies. Various finishes are available, so you can choose what will work with your skin texture.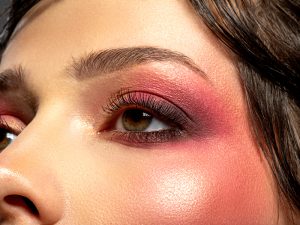 Monochromatic Looks
Monochromatic eyeshadows, lips, and cheek colors are a clever way to impact this holiday season. From subtle and natural to something more daring, you can create a look as unique as you are. Whether you go for a bold red lip and matching cheeks or a full face of shimmering gold, there are plenty of colors to choose from. Monochromatic makeup offers a modern and eye-catching style that will wow.
Powder Blue Eyeshadows 
The 80's classic powder blues are having their moment this season. The soft, muted shade is perfect for creating a statement-making look. Whether you use it to emphasize the eye shape or as a pop of color, this is sure to please. Paired with bold lip colors and a swipe of mascara, powder blue eyeshadows will create an eclectic aesthetic this holiday season.
A Classic Bold Lip
Bold red lips are a classic look that never goes out of style. Whether you go for a classic matte lip or something more glossy and bold, this look will make a statement. From deep berry tones to classic cherry reds, there are plenty of shades for those daring enough to try. Red lips can be paired with any look, whether for a subtle daytime look or something more dramatic for the evening.
A classic bold lip is a trend to follow this holiday season. Opt for a glossy finish and keep the rest of your makeup simple to avoid becoming too overwhelming.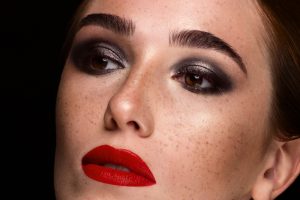 Faux Freckles 
Fake freckles are the newest trend to join the list of holiday beauty looks. Imitating the look of real freckles gives a subtle and natural aesthetic that can add a whimsy touch to any makeup look. Faux freckles can be achieved with simple products, such as a thin brush, eyebrow pencil, or unique freckle makeup, followed by a setting spray. 
They give off a natural and effortless vibe and are also a great way to experiment with makeup without going too far out of your comfort zone.
Silver Eyelids 
Silver is considered neutral when it comes to any holiday party makeup looks. Whether you go for full glam or a subtle shimmer, this look will make a statement. Silver eyelids can be achieved with simple steps: start with a primer to ensure a long-lasting finish, and then pick your favorite metallic shadow. Finish the look with light mascara and a swipe of lip gloss for a dazzling holiday look that is sure to turn heads.
If you need assistance with your holiday makeup looks, Imagique Salon's experienced staff will take the time to craft your look just the way you want it. Hurry now and make an appointment with us today!