5 Tips For Early Success When Renting a Salon Suite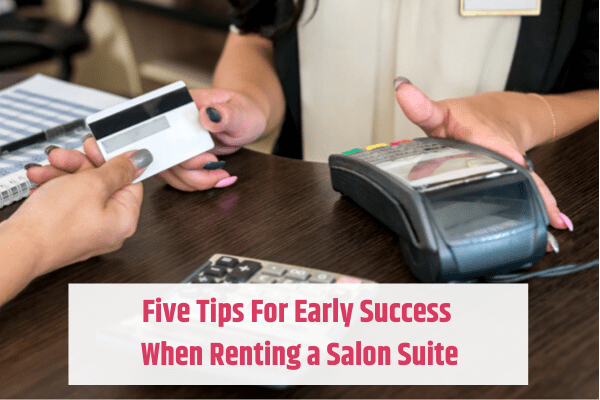 You finally feel ready to take the plunge and rent a salon suite. You know that your work is top quality and that your clients love you. It's time to be your own boss and start working for yourself. These five tips will help set you up for success when launching your salon suite business.
1) The Client List
Being your own boss means finding your clients. Before leaving to strike out on your own, you should have a solid client list. You need to be certain that between 75-80% of that list will follow you to your new salon.
If you're consistently booked out at 80% for the next 2-3 months, that's a strong indication your list is sizeable. Next, ask yourself how many of those clients will realistically follow you?
There are three numbers every stylist should know before renting a salon suite:
Their client retention rate
Their average job size
Their rebooking rate
Make sure you understand how these numbers will impact you.
2) Budgets and Expenses
Before you open your new salon suite, sit down and run through your budget and expenses. You should research all start-up costs. The more prepared you are, the higher your chances for succeeding.
Do you have the capital or a loan to purchase materials, equipment, supplies, decor, and more? Are utilities and wifi included with the suite or is that an additional cost? What do you plan to charge people? How much do you need to charge to break a profit? How much will you spend on advertising?
3) Plan the Operations
If you come from a background of working in salons, you've always had systems in place to follow. And, you've always had a team to help support you. When you rent a salon suite, you'll have to make a lot of decisions on your own:
Which POS (point of sales) system will you use? For example, many small businesses use Square. But is this the best POS for you? What are the fees for the POS you choose? Does it eat into your profit?
Which scheduling system will you use? You won't have a secretary available to take your bookings, so it needs to be a quick system.
Do you have a business accountant?
Who will set up and run your social media page? And your website?
How will you advertise?
Answering all of these questions before you rent the salon suite will give you the highest chance for early success. You won't have to delay researching and planning, you can just move ahead, with a detailed plan.
4) What's Your Competitive Advantage
You need to understand what your competitive advantage is on the market. There is a reason why customers should come to you over the competition. Whatever that reason is, you need to be able to convey that message to prospective clients.
This concept also ties into your brand. A successful business has distinctive branding. What's the image you want to portray to clients? Is your salon suite edgy and modern? Is it glamorous and elegant?
5) Legal Compliance
Before you leave your salon and rent a salon suite, consider any legal complications. Review your most recent work contracts for compete clauses. The success of your new business likely depends on you bringing your existing clients over. Some work contracts may prohibit you from opening a competing business or contacting existing clients.
Are you interested in renting a salon suite in the Dallas area? Imagique Salon Suites has everything you need to kickstart your beauty career. We have three convenient locations in North Plano, South Plano, and Richardson, Texas. Here at Imagique Salon Suites, we are a full-service salon that offers 24/7 access, commercial-style laundry rooms. We also provide a break room and a variety of other beneficial perks. Are you ready to start your journey to greatness? Contact us or complete an application today. It's time to love what you do.