6 Trending Fall Hairstyles of 2022
Fall is in the air, so it's time to start thinking about the latest trends for the season. As the weather changes, people worldwide begin to change their hair to reflect the seasonal shift. This fall, popular hairstyles are coming back with a modern twist. Here are six of the most popular fall hairstyles of 2022.
90's Glamour Up-do
The 90's glamor-up-do is coming back this fall. To get the look, start by curling your hair into loose waves. Focus on using flirty, face-framing tendrils, then pair the strands with a lived-in bun or ponytail. With this playful look, attend any event in style, whether you're going out for drinks with friends or headed to a formal affair. This is the perfect trend for you if you're looking to add a little glamor to your hairstyle.
Return of the Fluffy Blowout
The full-hair blowout look first became popular in the early 1990s and has made its way back for fall 2022. To get the look, start with clean, dry hair. Next, use a round brush or round brush blow dryer to blow out your hair in sections. Once your hair is completely dry, use a curling iron or hot rollers to add loose curls. The trend is about volume and texture, so if you want to add some bounce to your strands, this is the style for you.
Hair Accessory Fun
Hair clips and bows are definitely having a moment this fall. Add fun and personality to their hairstyle by incorporating fun accessories that reflect your style. Hair clips and bows come in all different shapes, sizes, and colors, so you're sure to find the perfect one to suit your style. There are no rules regarding hair clip placement this fall, so feel free to get creative. Whether you're looking for a subtle way to accessorize or want to make a statement, fall is the time to try it.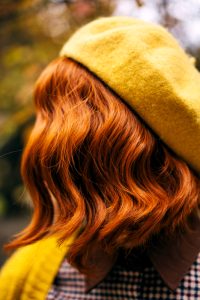 Copper Hair
For the past few years, rose gold has been all the rage, but a new color is taking over this fall. Copper hair is the latest trend to hit the runways, and it's perfect for those looking to spice it up. Not only does it pair well with any skin tone, but this look allows those with naturally red hair who want to add a rich hue of dimension and depth. However, If you don't have natural red hair, don't worry – you can still achieve this look with the help of a good hair colorist. If you're thinking about trying out this trend, consult your stylist to find the perfect shade of copper for you.
The Micro Bob
The micro bob is another hot trend this autumn season. Add a little edge by sporting this modern twist on a classic bob haircut. The micro bob is a shorter, more textured version of the classic bob. To get the look, ask your stylist for a chin-length cut with face-framing layers, and you will be living the french girl aesthetic.
Return of The Side-Swept Bangs
Side-swept bangs have been an ongoing trend during the early Y2K era, but they're making a shocking comeback this fall. Looking for a way to update your look without making a huge change? This is the perfect option for you. Side-swept bangs effortlessly frame your face, and they can be styled in various ways. Whether you wear them straight, curly, or wavy, they're sure to add a touch of glamor to your look.
Imagique Salon Suites
If you are eager to try out any of these incoming trends, it is worth seeking the advice of a professional stylist to help you achieve the perfect look. Book an appointment at Imagique Salon Suites, and indulge yourself with the help of professionals.