7 of the Hottest Summer Nail Trends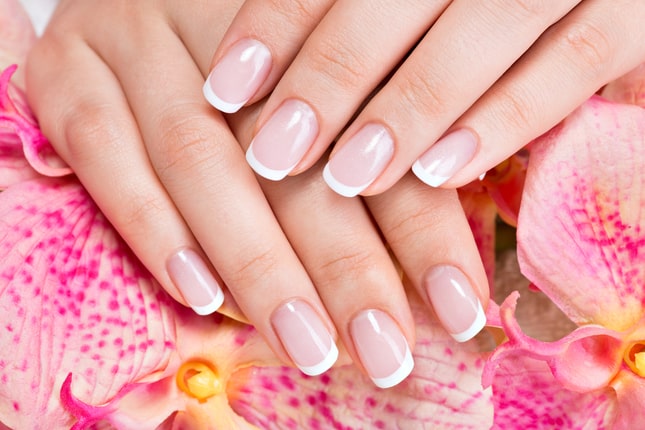 The warm weather should inspire you to discard the standard manicure for something splashier. Warmer days are ahead of us, and what better way to usher them in than with bold, colorful and vibrant nails. We stalked the internet to find the following 7 hottest summer nails styles to turn your nails into pieces of art.
1. Candy Coated French Mani
Do you still fancy the 70s French manicure? Well, you can create a gorgeous candy-coated French manicure using any shade of the rainbow. Reset your regular French nail style with outstanding candy-colored manicures that feature up to eight different shades of pastel Essie polish. Afterward, line the nail's edge with a small thin line of bright white Blanc polish.
2. The Bare French
The Bare French manicure is an old come back with a little twist. You can show off your glossy nail bed using this epic French manicure style. It features a classic red pedicure that comes with ten free Zoya nail polish in purity. You can also go for a Naked manicure pink, buff or mauve perfector, depending on your skin shade. Unlike the yesteryear's blunt French manicures, the 2020 version is super gorgeous, subtle and dainty.
3. Wild Animal Prints
Summertime offers an excellent opportunity to get a little wild. It is the time to show super saturated animal shades on your nails. To get bold prints, consider power clashing more than one color of animal print. You can mix leopard, zebra prints and colorful confetti to get a gorgeous look. Other animal prints to consider include tiger, alligator, cheetah and snake eye prints.
4. Logomania
It looks like Logomania will be with us again this summer. Well, Logomania is the latest manicure trend to hit the internet. This style features all the designer monograms you love but at an affordable price point. If you are skilled in nail art, you can do this manicure at home. Some of the popular Logomania options to try include Monochrome channel, Gucci embellishments, Graphic Givenchy, subtle LV, peachy Gucci and Louis Vuitton rainbow, among many others
5. The French Twist
If you desire a flashier style, the French twist manicure is a perfect pick. You can throw in a more exaggerated French tip curve down one side of your nail to achieve a chic look. If you are looking to achieve a bolder look, place the French tip guide on the side of the nails.
6. Skittles Nails
If you are undecided on your preferred manicure style, why not try the multicolored Skittles nails manicure? Rainbow skittle nails are ideal for those who are looking for a bold style. You can grab up to 10 lacquers to get a jaw-dropping look that will wow your friends during this summer. But if you prefer something low key, a monochromatic range of shades is your perfect pick.
7. Free Form Shapes
This summer, random shapes and squiggles are also trending. The random nail shapes are a popular style for short nails or long, narrow nail beds. The free form shape manicure was inspired by top artists such as Ellen Ruth, Mitnik-Miller, Jessie Unterhakter and Katey Truhn.
Picking the right type of manicure for this summer requires more than choosing the style that looks beautiful to your eye. The seven hottest summer nail styles we have featured here offer a great starting point.
If you are a salon owner, nail artist, or manicure expert looking for space to lease, don't hesitate to contact Imagique Salon Suites. We lease out luxurious salon suites in North Plano, South Plano and Richardson, Texas.