Attainable Tips for Improving your Salon's Digital Marketing
In today's digital age, your beauty salon's digital marketing efforts require a specialized approach. With the right strategy and implementation, your salon can stand out from the competition and become a well-known name in the beauty industry. Digital marketing is more than just creating an online presence – it's about creating a memorable customer experience that will keep them coming back. By leveraging the power of digital marketing, you can create a successful online presence for your beauty salon and build a loyal customer base. With that in mind, this essay will explore the different strategies and methods that beauty salons can use to market their business online effectively.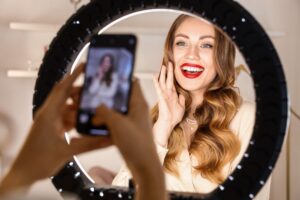 Quality Content over Quantity
Digital marketing is more important than quantity. You can post as much content as you want, but it won't be effective if it isn't well-executed and trustworthy. You must invest time in creating high-quality content, such as before and after photos, client testimonials, and quality graphics that align with your brand. Content should be of high quality and call to action, making it user-friendly and easy for potential customers to engage.
Interact with Clients 
Social media is a powerful tool for beauty salons to engage with customers. Platforms like Facebook, Twitter, and Instagram are great for sharing customer shows. By responding to customer shows promptly, you can show that your salon is professional, friendly, and cares about customers. Creating engaging content such as polls, giveaways, and surveys to create an interactive and positive online presence for your business.
Offer Deals Exclusive to Select Platforms
Offering exclusive deals on social media can increase customer engagement and attract new customers. Offering discounts, promotions, and specials can incentivize customers to follow your salon on social media, leading to more repeat business in the future. Furthermore, offering exclusive deals on social media helps create a sense of urgency, as customers will need to take advantage of the offer before it's gone. Excessive deals are a great way to showcase your salon's services and increase brand awareness.
Target Your Paid Ads
Utilizing targeted paid advertising is one of the most effective ways for beauty salons to reach their ideal customer base. By setting up a targeted ad campaign, you can ensure that your content gets the right people, increasing the likelihood of conversion. Paid ads allow you to track your results and measure the success of your campaigns, giving you valuable insight into what is working and what isn't. Paid advertising also allows you to customize your campaigns and tailor your message to different target audiences. Not to mention, it is cost-effective as you only pay for the clicks and impressions you generate.
Invest in SEO
Investing in SEO services can have a lasting impact on your beauty salon's marketing strategy. Optimizing your website will improve your salon's visibility on search engine result pages, increase website traffic, and boost customer engagement. Utilize keyword research and content optimization to target the right audience and increase the chances of conversion. 
Working with an experienced SEO agency can help create content that resonates with your target audience and increase your online presence. Additionally, SEO services help you analyze and track your digital marketing efforts more effectively, allowing you to make informed decisions about your campaigns and optimize them for success.
Website Upkeep
Regular website upkeep is essential for your salon's digital marketing efforts. Keeping your website up-to-date and maintained will appear more professional, boost customer engagement, and make it easier for customers to find the information they need. Additionally, ensuring that the content on your website is fresh and relevant can help you stay on top of the competition and attract new customers. Regular website maintenance will be the indicator of any potential issues or problems before they become significant issues.
Partner with a Digital Marketing Agency
Partnering with a digital marketing agency specializing in the beauty salon industry will ensure your salon's online presence is optimized for success. A digital marketing agency will create a digital marketing strategy tailored to your salon's needs, develop campaigns to help you reach your target audience, and track the results of your efforts. Additionally, an agency can provide valuable insights and guidance to help you stay ahead of the competition and grow your salon's business. Working with an experienced digital marketing partner is essential for any salon looking to maximize their online presence and reach their business goals.
Imagique Salon Suites 
If you're ready to start your Salon Suite, Imagique has three convenient locations throughout North Dallas. With Imagique, you can launch a salon without all the hassle. Contact us for more information or to schedule a viewing today.