Find The Perfect Makeup Look For Any Occasion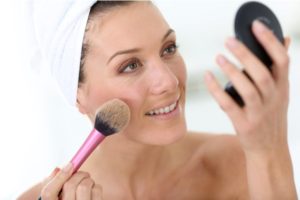 Applying makeup is the icing on the cake for looking your best for a fun night out with the girls, your family, a date, and other occasions. Use these tips to help you obtain the perfect makeup look for any occasion.
Everyday Makeup
Your everyday makeup is makeup you wear every day, such as to work, to the store and so on. When you're out and about, you can look your best without going over the edge with a natural look. Keeping things natural is a great way to let your natural beauty show without piling on tons of different colors and spending countless hours blending.
Date Night
Date nights call for perfection with makeup. Not only do you want to look your best, you want to "wow" your date. For date night, stick with a natural tone, but make sure you emphasize your best features by highlighting them. Your best features can include your lips, eyes or skin. Use warm tones that make your skin glow, but don't use so much makeup that it's hard to distinguish your awesome features.
Night Out On the Town
A night out on the town requires you to make a bold statement. Kick your natural look up a notch by applying lipstick instead of lip gloss and eyeliner. Everyone loves a good cat-eye. Try different color eyeshadow to make your night out makeup look a little edgy. You want to turn heads — but for all the right reasons. Your night out makeup should be bold and fearless, but keep it in mind, it should still be tasteful, not tacky.
No Makeup
If makeup isn't your thing, or you just don't feel like wearing any makeup on a particular day, that's no problem! What you want to focus on in this situation is skincare and moisturizer. Put away the brushes, lashes, and palettes for the day and focus on your skin. Wash your skin and make sure you use a light moisturizer to keep your skin hydrated.
Formal Event
Formal events are a big deal, and you can't have anything less than perfect. Formal events require classy, elegant styles and makeup, so don't think about using outlandish colors for this event. It's best to keep things simple. Wear natural makeup, but take it up another level by using simple eyeliner. Highlight your best facial features, and wear lipstick for formal events, not lip gloss. Use a setting spray to make sure your masterpiece is long-lasting.
Finding the Perfect Luxury Makeup Salon Suite
Imagique Salon Suites is your one-stop-shop for all things beauty. Make yourself at home at either of our three locations in North or South Plano, and Richardson, Texas. Whether you're ready to get pretty just because or you're ready to show off your makeup skills, Imagique Salon Suites can help. Contact us today to learn more about luxury beauty services.