How To Get New Clients as a Salon Professional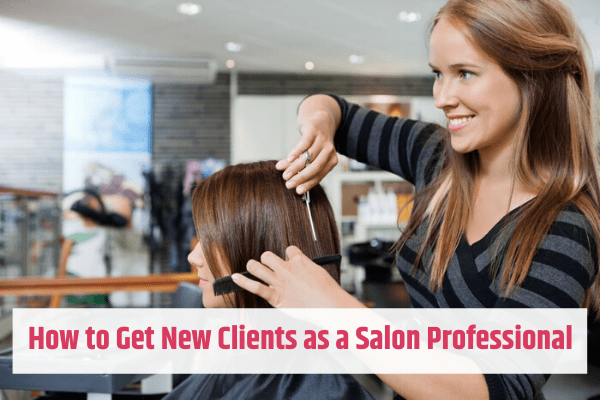 As a salon professional, you may find it challenging to get new customers. Your beauty skills are always in demand, but getting new customers can be difficult for a variety of reasons. Here's a simple guide you can use to fill your schedule and have a steady income.
1) Focus Your Marketing Efforts
Marketing is an essential step for getting new clients. People often don't know you exist until they run across an advertisement. One of the best ways to spread the word about your business is through social media. Facebook, Twitter, Instagram, and other social media platforms are all great ways to let people know about your business. Create pages on each of these social media platforms and showcase your expertise. Post pictures of your work with detailed descriptions. Customers want to know what you can do for them, so let them know your areas of expertise.
2) Use Incentives
Your price for your services may be fair, but running different deals and specials gets more traffic through the door. Run specials and deals for new customers who give your services a try, such as 15% off of a particular service for a limited time. You can also give your current customers a discount on different services for referencing you to their friends, relatives, and coworkers.
3) Create a Portfolio
Portfolios are perfect for your showing the world your skills. An online portfolio is similar to advertising your work on social media, but a portfolio is more personal. You can customize your work any way you want without worrying about the rules and regulations of a social media group or platform. You are free to add different colors, shapes, designs and other elements that make your portfolio stand out. You can also provide content about yourself, such as the things that inspire you and information about your services that will help you rank highly on search engines.
4) Expand Your Network
Attend events and network with people who are in the same industry or different industry as you. Everyone wants to look and feel their best, and your expertise helps people achieve this goal. Go out and meet people. Start conversations with people about the beauty industry and the services you offer.
5) Perfect Your Business Cards
If you don't have business cards, you need to get them. Business cards give individuals a direct connection to you and your services. Your business cards should have your name, the address of your business and specialty information. Use colors that stand out but are not too loud, such as neon colors. Bold, vibrant colors are best to use with business cards.
6) Promote Yourself
You don't have to rely on anyone else to promote you unless you don't have the time to host events. Hosting beauty events allows you to get to know locals and give them a chance to get to know you and the services you offer. Offer free sample gift bags to the guests and include your business card. You'll be surprised at how many calls you'll receive.
Interested in a Salon Space for Rent?
Here at Imagique Salon Suites, we offer an upscale salon experience for guests and beauty professionals, including natural light and granite tiles. We have everything you need to get started. With three convenient North Dallas locations, all you need to bring is your expertise to turn your dreams into reality here.