How to Pick the Right Nail Technician For You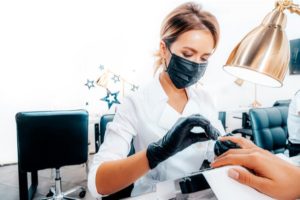 Caring for your nails is part of a fabulous beauty routine. The most challenging part of maintaining a beauty routine is finding the perfect nail salon and nail technician. Use these tips to help you find the perfect place.
Good Reviews and Word of Mouth
When it comes to reviews, you need to read the reviews left by current and previous customers to gain an understanding of how the nail technician conducts business. Make note of the things that customers love about this professional and some of the things they didn't (if any). Friends, relatives and co-workers can be a great source for reviews of different nail techs in your area.
Consistency
You want a nail technician that is consistent. A consistent nail tech provides the same great service every time with little to no hassle and is reliable. They are professional and never too experienced to learn — vital in an industry where new ideas and products are coming out all the time. When you schedule an appointment, you know there will likely be no issues and no unwanted surprises, such as last-minute cancellations.
They Make You Feel Comfortable
The right nail technician makes you feel welcomed and comfortable. You won't have to worry about rushing to have your manicure completed, because you'll feel right at home. Maintaining a conversation will be easy and you'll enjoy the time you spend there. Getting your nails done should be a great pampering session each time. After all, you're paying for a professional job as well as a relaxing time.
They Understand Your Wants and Needs
A professional nail technician understands the latest nail trends for applications, designs, and different nail polishes that will turn your nails into a true work of art, including gel, dip powder, French, and other types of manicures. A great nail technician will understand the essentials of maintaining healthy nails while showcasing their expertise and creativity.
Make Sure They Are Licensed
Before you schedule an appointment, make sure the technician is licensed. A licensed technician has completed the necessary training to make sure they provide a safe environment for their clients. They also have the required skills to make your nails beautiful while keeping them healthy. A licensed job is a good job.
Finding the Right Nail Salon and Nail Technicians
If you're looking for a nail salon that provides a luxurious experience with licensed nail technicians, look no further than Imagique Salon Suites. Whether you're ready to get a manicure or give one, we have everything you need. Ready to get pampered today? We have locations in North and South Plano Texas, and Richardson, Texas. Contact us to learn more about our manicure services or renting a suite.