How To Properly Care For Your Hair Extensions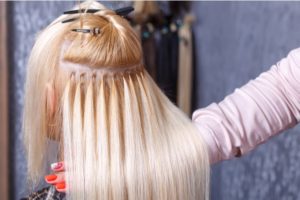 Hair extensions have been around for many years and are still popular today. You may be considering hair extensions to obtain a specific hairstyle or try a new look. Here are the facts about hair extensions and how to properly care for them.
Using the Right Products
When you're wearing hair extensions, you have to care for them like would your natural hair. Using sulfate-based and alcohol-based hair products can be harmful to your hair in different ways.
What Effect Do Sulfate-Based and Alcohol-Based Products Have on Hair?
Sulfate-Based Products
Sulfates are chemical agents that are used in shampoos to remove grease and oil. The most common sulfates in shampoos are sodium laureth sulfate and sodium lauryl sulfate.
Sulfates are a problem for your hair because they remove sebum, an essential natural oil. Sebum is important because it keeps your hair smooth and provides moisture. Continuously using sulfate-based products on your hair extensions can make your hair dry and brittle. If you have a sensitive scalp, using products that contain sulfates can cause scalp dryness and irritation. If you dye your hair, sulfates make the color fade quickly. Sulfates can also make your hair extensions frizzy, leaving you with unwanted poofy and frazzled hair.
Alcohol-Based Products
Alcohol-based hair products make your hair dry, lifeless, dull, and flaky. Alcohol is used in many hair products because it extends their shelf life. You may notice you can keep a can of hair spray for a year or more, and each time you use it, it smells like the very first time you used it.
Reducing Tangling and Shedding
Tangling and shedding are common with most hair extensions. To avoid this problem, comb or brush your extension and treat it like your natural hair. Before you go to bed, sleep with a cap on your head to prevent the hair from moving around while you sleep, leaving you with a tangled mess in the morning. Hair extensions can become dry, so use a spray moisturizer to keep your hair extensions looking healthy.
When it comes to shedding, don't over comb or brush your hair. Once you style your hair the way you want, don't continue to comb or brush the hair. If you have loose curls or a similar style that can lose its bounce or character during the course of the day, use a light holding spray to make sure everything stays in place.
Washing Hair Extensions
To wash your extensions, remove them and detangle them if necessary. Fill your bathroom sink with warm water and soak the hair extensions. If you're not wearing clip-on extensions, your hair may still look great, but it can hold different odors. In this situation, you can use dry shampoo to get the job done.
Storing Hair Extensions
When you're ready to try a new hairstyle, remove your extensions and brush them out to remove tangles. Place them in an airtight container so they will be ready to use next time.
Finding a Luxury Hair Salon
If you need a new do make yourself at home at Imagique Salon Suites. We have different locations, including North and South Plano, and Richardson, Texas. Contact us to learn more about our luxury beauty services.