How To Use Use Technology In Your Salon Suite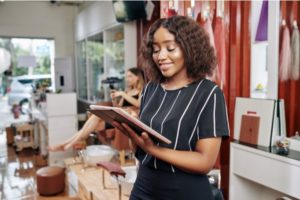 Technology and salon suites seem to be strange bedfellows, but they go hand-in-hand. If you are a beauty professional, there are many tech tips that can benefit your salon. As you grow your clientele base, you'll realize how difficult it becomes to keep track of revenue, progress, and appointments without using technology. Using paper and pen can only work for a new salon suite, but eventually, you must switch to technology to make things easier.
Here are five ways in which technology can help in your salon suite:
1. Social Media Marketing.
A business can't grow without marketing. You won't go far using traditional marketing methods like word of mouth, radio, and TV ads. Social media marketing can help you reach thousands, if not millions, of people in the shortest time possible.
You can build a formidable online marketing campaign using social media sites like Facebook, Twitter, LinkedIn, and Instagram. The greatest advantage of these sites is that they are free to use. You can utilize paid ads as well if you want to reach a wider audience.
2. Email Newsletters.
Just like social media marketing, email marketing is another excellent marketing strategy. Once you identify your target audience, you can create punchy email messages that can draw their attention.
In your emails, you can provide links to your newsletters to help them get more information about your business. To get more people on your email list, offer them incentives such as promo codes and discounts. However, avoid overwhelming your audience with email, as this may turn them off.
3. Conduct Online Customer Surveys
The growth of your business depends on how you relate to your customers. To improve this relationship, you have to know what the customers say about you or your business.
The easier way to get this feedback is through an online survey. You can invite your customer to take short surveys once in a while to help you gauge the progress of your business. Using online surveys will help you improve on product quality, packaging, delivery, and even customer support.
4. Loyalty Programs.
A loyalty program will do magic to your salon suite. If anything, everyone likes free or discounted things. Once you've identified some loyal customers, create a loyalty program to reward them.
You can also reward those who try your new services, referring friends, pre-booking, and even booking online for your services. You can even offer some services for free to your loyal customers. For example, if a customer comes for hair treatment, you can treat their nails for free as an additional service.
5. Check-in and Scheduling Technology.
Having your customers come in at random is quite overwhelming. You and your assistants will find it hard to deal with customers who feel their time is wasted in the queue. To avoid this, you can use check-in and scheduling technology that allows your customer to book online. This is more convenient for your customers because they'll come to the salon at the right time. The customers will see online when you are free so that they can book — no queuing.
Lease with Imagique Salon Suites.
Following the tips above will take your business to a higher pedestal. Sometimes you can get confused about how to integrate technology into your business. You need not worry. You can lease with Imagique Salon Suites and enjoy all that technology has to offer your business. Call us today and enjoy professionalism, technology, and creativity, all in one place.