Pros and Cons of Waxing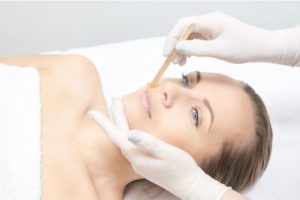 Waxing is a part of many people's beauty routine. When it comes to waxing, you're looking to look and feel your best without stubble in the picture. Here are the pros and cons of waxing and a guide to how waxing works.
How Does Waxing Work?
If you're considering getting a wax but never had one before, there's a good chance there are some horror stories floating around regarding this type of beauty treatment. When you get one, a sticky substance, wax, is used to remove hair from the root. Wax can be applied to different parts of the body. Once applied, the wax is given a few seconds to set on an area of the body, then removed. This process is repeated until all unwanted hair is removed.
What Are the Pros of Waxing?
Waxing Less Frequently
If you get a wax, you won't need another session for at least four to six weeks. If you decide to shave, you may have to shave daily to obtain the desired results.
Thinner, Less Coarse Hair
When your body hair grows back, you don't have to worry about enduring a long process to remove thick, coarse hair. Once your body hair begins to regrow, you will notice is it less coarse and much thinner the first time, making it easier to remove a second time or multiple times after the first wax.
No Razor Burn or Rashes
If you've shaved before, you know how painful and frustrating razor burns and rashes can be. When you use wax to remove body hair, you don't have to worry about these situations. When you get a wax, all that's left behind is smooth, hairless skin. There is no stubble, bumps, and you don't have to worry about cuts.
Removes Dead Skin Cells
Dead skin cells are a common cause of a dull appearance. When you get a wax, say goodbye to dead skin cells. When dead skin cells are removed, you reveal new, healthier, brighter skin.
What Are the Cons of Waxing?
Pain
If you've ever inquired about getting a wax, you've heard about the pain. Waxing is a hair removal method that does involve pain, but the results are better than the alternatives, such as shaving. The pain doesn't last forever, and it does hurt to be beautiful, so embrace it!
Possible Skin Irritation
Skin irritation from waxing isn't as common as it is with shaving, but it can happen. When skin irritation from waxing occurs, it's common to experience ingrown hairs, redness, and bumps around the areas of the body where hair was removed.
Finding a Luxury Waxing Salon
If you're looking for a luxury wax salon, or you want to be a salon owner and showcase your waxing or other beauty skills, look no further than Imagique Salon Suites. We have three locations in Richardson, South Plano, and North Plano Texas. Come and join us! Contact us today so we can help jump-start you on your road to success.