Quick and Easy Hairstyles When You're in a Rush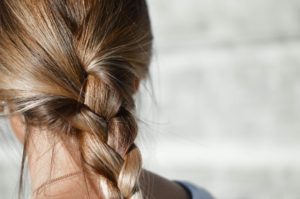 Let's be real, we've all slept through our alarms and woken up with zero time to get ready and our hair at that time seems like the biggest nuisance. Sometimes, going to the salon to get your hair done might not be an option when you're in a rush. Whether you are running late for a meeting, school or lunch with friends, don't worry about it because here are 7 simple and quick hairstyles you can do yourself at home that will instantly make you feel more confident.
Messy Bun
This hairstyle takes little to no effort and works perfectly if you don't have time to wash your hair. It gives you an effortlessly chic look and is super easy to do. Make your messy bun even messier by adding a little hairspray to increase volume and make your hair look healthy. Use bobby pins to secure the flyaways in place and you're ready for the day. This is also a great hair-do for the summer season to keep your hair out of your face
Half Up, Half Down
This is perfect for a daytime function as it's a simple yet glamorous look. A half-up, half-down updo can upgrade your look to a whole new level. Add a braid to make it even fancier or a headband to keep it secure. This hairstyle works best with straight and wavy hair.
High Ponytail
An Ariana Grande-inspired look will never disappoint. A sleek and high ponytail will make you look put together and highlight your best features. This hairstyle also works well with unwashed hair and requires only a few tools. A comb to finely brush your hair, a tight elastic band and some gel. Alternatively, you can use hairspray to set the baby hairs.
High Puff
For curly-haired beauties, a high puff is a great way to pull off days-old hair. On days you can't be bothered by putting effort in your hair, pull it up into a high puff or ponytail and sleek down the rest of the hair with gel. This hairstyle lasts a long time and won't move throughout the day. Suitable for curly and short hair as well.
Braids for Days
Braids are the way to go when you're looking for something that's low effort but still looks charming. Use a volumizing spray and throw your hair in a quick side braid or for a sharp look, go for a loop braid that makes you feel instantly sexy. Braids work best with straight and wavy hair that is longer than shoulder length.
Space Buns
If we learned anything from Star Wars, it should have been Princess Leia's iconic space buns, because why have one bun when you can have two. Make these even better if you have a little extra time on your hands by adding in braids. This hairstyle simply elevates your look to a whole new level. The simplest way to do this is by splitting a half updo into two braided pieces and twisting them into buns.
Twisted Side Ponytail
Part your hair down the side and start twisting your hair inwards till you reach the back. Do this on each side and tie your hair in the middle or lower however you may prefer. This is a simple and easy look that looks like you put effort into your hair but it was only a two-minute step. Shhh.. let's keep that our secret.
For more tips and tricks, visit the Salon Suites website.