5 Actionable Tips to Sell More Retail Products in Your Salon Suite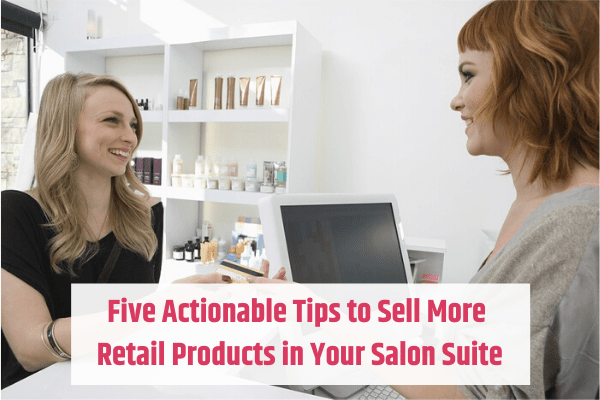 You have spent time perfecting your practice and mastering your skills, and now your salon suite has grown considerably. You're experiencing an improvement in the flow of clients to your business. Besides, they feel the essence of satisfaction when they leave your salon, which has been critical to your business growth. Selling retail products can be an excellent way of boosting revenue and increasing your bottom line. If the inventory in your salon suite isn't moving at a satisfactory rate or is nonexistent, then you may want to consider following the five tips provided below.
Even so, none of us likes pushy salespeople, especially when pitching the benefits of their respective products. For this reason, many salon stylists can initially be uncomfortable recommending and selling products as their main focus is on the services they provide. This leaves many salon entrepreneurs paying little attention to the marketing and sale of retail products. To improve retail sales in your salon suite, be sure to market products with the consumer in mind.
1) Be Helpful
The main reason to start selling cosmetic applications is to offer clients something that helps them solve their daily beauty struggles. Note some of the challenges your clients go through when making their hair, upcoming events, the type of client, and different products that work on clients with different types of needs. Take this into account and stock your shelves with products that alleviate your clients' cosmetic needs, they [clients] will feel welcomed and valuable to your business. This earns you credibility and uses your relationships with existing clients to generate additional revenue.
2) Sell Products that You Believe In
For beginners, it's naturally easier for anyone to sell something that they believe in. Many stylists initial hesitation regarding selling retail products began somewhere in the past when they were expected to recommend products they may not have actually believed in. As someone with a Salon Suite, you have complete control over the products that you offer. Investing only in products you believe in will provide the best cosmetic solutions and gives your clients a reason to come back to your salon suite. You will find yourself being able to confidently articulate the benefits of such products which can actually improve your client relationship while increasing your bottom line.
3) More Effort Equals More Reward
Generating higher sales levels in a salon suite is easier said than done. To do that effectively and practically, you need to develop some products acquisition skills and tactics. For instance, you need to find stand-alone and buzz-worthy hair solutions. Also, you may consider taking part in local networking events. When marketing the products, you need to develop an effective marketing mix and a robust internet presence. Such marketing channels create avenues for reaching out to more clients.
4) Be Informative – (Why Buy Salon Products?)
There are many products available in drug stores that offer your clients a pocket-friendly alternative. Thus, you need to compel the clients that your products provide better quality and why they have a relatively spiked price. According to professional hairstylists, salon products have higher concentrations of active ingredients. Further, salon products have a higher portion of natural ingredients that take much effort to plant and harvest.
5) Inventory Management
Exercising inventory management helps you to keep the right volume of products, especially the ones that have high turnover. That is to say; if you note a beauty product that sells quickly, have a consistent flow of the supply. You need to keep tabs on consumer behavior, past sales history, and reliable supply channels. Having effective inventory management saves you money and gives you a strategic framework on how to merchandise your products. You need to understand what your clients want and need. That forms the basis upon which you can purchase your salon beauty product. One thing you should realize is that bulk purchases at lucrative discounts are often a trap. You may be offered discounted prices on products that don't sell as much as you expected.
Imagique Salon Suites
Are you interested in renting a salon suite in the Dallas area? Imagique Salon Suites has everything you need to kickstart your beauty career. We have three convenient locations in North Plano, South Plano, and Richardson, Texas. Here at Imagique Salon Suites, we are a full-service salon that offers 24/7 access, commercial-style laundry rooms. We also provide a break room and a variety of other beneficial perks. Are you ready to start your journey to greatness? Contact us or complete an application today. It's time to love what you do.