The Best Hairstyles That Frame Your Face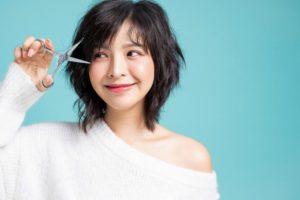 Do you feel like your current hairstyle is quite bland? Are you ready for a new look? If your current hairstyle has run its course, consider spicing up your look with a hairstyle that frames your face. It'll accent your best features. Check out some face-framing options below! And stylists, this is the perfect guide to the latest looks.
Layered Bob
While the layered bob and numerous variations on the bob have arisen through the years, the bob is a hairstyle with quite a bit of longevity. It dates back to the 1890s and really gained popularity in the 1920s.
A layered bob consists of your stylist cutting your hair in a straight line at an angle with your longest strands of hair in front. Rather than completely straight lines, the layered bob gives the appearance of depth.
The bob is best suited for women with a square, heart, or oval-shaped face, but a stylist can work magic and make this coiffure work for almost anyone.
Long Layers
Long layers are made when your stylist gives your hair depth, but the stylist starts all layers where your hair is long. This type of layer focuses attention on your face, unlike no layers that tend to make your face look longer. For instance, a hairdresser may start layers below your chin to give it a more defined look.
Curtain Bangs
Curtain bangs are a low-maintenance look that began in the 1950s and trended into the '60s and '70s. These shaggy bangs can be parted in the middle or swept to either side. They frame your face, especially if you have a long, square, or round face. However, just about anyone can pull this look off.
The bangs start as a valence but can seamlessly become drapery in between cuts, reducing how frequently they need to be trimmed. They easily work for hair of any length, although you may want to work with your stylist to find the ideal curtain bangs for your length of hair and facial shape.
Face-Framing Fringe
The face-framing fringe hairstyle originated in the 1960s and '70s but is coming back in full force. A fringe is a fancy term for a hairstyle with bangs. Interestingly, in the UK, they refer to bangs as a fringe.
You may opt to have your bangs frame your face to soften the appearance of an angular face, in particular, around the jawline. Although a stylist may help you find hairstyles with fringe that works best for your face, fringes are usually recommended for people with oblong or square faces. Fortunately, fringes work for people with long, short, or medium-length hair.
Face-framing hairstyles can accentuate your best features while softening certain other features. Since most of these styles are so versatile, you can find one that works for you easily, especially when you work with your hairdresser.
Stylists: Consider Renting from Imagique Salon Suites!
At Imagique Salon Suites, we make the rental process for a salon simple, so you can focus on doing what you do best — giving hairstyles that complement each client and make them feel beautiful, whether it's curtain bangs or a fringe. Our salons offer all the necessary amenities for your operation to run smoothly, while also having a modern appearance. Contact us today at 214-430-3036 to discuss leasing.