2021 Trending Nail Designs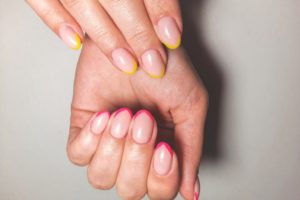 Spring is here and summer is on the way. It's time to be creative with your appearance, especially your nails. Check out these nail design trends that are taking over 2021.
Animal Print
Animal print nails are all the rave in 2021. From cheetahs, tigers, zebras, and other animal prints, you can reveal your wild side. One of the coolest factors about animal print nail designs is the different ways you can mix colors to create animal print patterns to make your nails unique.
Multiple Colors
Multicolor nails are hitting the fashion scene hard in 2021. This summer, you're likely to see people with a different color polish on each nail or an ombre nail design. If you're going for a calm look, choose blue for your ombre design. A blue ombre design can feature different shades of blue, including sky or pastel blue, indigo, and periwinkle.
To saturate a red ombre look, use colors, red, coral, burgundy, and pink. Ombre and multicolored nails are a good way to spread positive vibes, especially using when you're using bright colors, and a way to express your individuality.
Color Blocks
Color block nail designs are growing in popularity in 2021. This nail design can feature two or more colors in many patterns, such as a sunburst, swirl, or checkered patterns. You can incorporate geometric shapes to create memorizing works of art.
Painted Tips
If you want to try a new nail design without going over the top, try painting the tips of your nails. Painted nail tips are a great way to add a splash of color and remain professional. It's simple and pretty.
Stripes
Striped nails can be elegant and classy or a work of art, depending on how you arrange the stripes. You can use stripes to enhance your nail art or use them to create works of art on your nails. You can use a variety of colors and glitter to make your nails pop.
Pastels
Pastel nails are often trending during the spring and the Easter holiday, but they are perfect for any time of year. Pastel colors are softer, less bold colors that are easy on the eyes and creates a calm feeling. This type of nail design is the go-to for perfecting unicorn nail designs.
Green
Green nails can be extravagant and creative depending on the design you choose. Whether you choose a matte or glossy green, your nails are sure to get attention because this color can be unusual, especially for nail designs. Green glitter nails are a must-have this summer, especially if you want a design dedicated to nature.
Gold Speckle
You can never go wrong with gold, even when it's speckles of gold color on your nails. The color gold is associated with luxury and wealth. You can use gold speckle nail designs on top of a solid color or a coat of clear polish to make the gold speckles stand out.
Swirls
Whether you're interested in an ice cream nail design or want the design to feature a pinwheel effect, swirl nail designs are the way to go. You can use two or more colors to create a swirl design and add decorations to make the swirls unique. You can create tons of unique patterns using swirls.
Flames
Flames are daring and edgy nail designs that symbolize a fierce personality. You don't have to stick to traditional flame nail design colors, such as red and yellow. You can use different colors to create flame designs. Bright color flames are a great way to celebrate the summer.
Mix-Matched
If your focus for 2021 is to be unique, try mix-matched nail designs. You're sure to have nails that are unlike anyone else's. You can use the same nail design on each nail but in different colors or a different nail design on each nail with different colors.
Finding a Nail Artist
If you're looking for a professional nail artist, look no further than Imagique Salon Suites. We know how important manicures are, and we're here to give you the designs you crave! Check us out at either of our three locations in Richardson and Plano, Texas. Contact us today for more information about nail designs and trends and other beauty services.