6 Event Ideas for your Salon Suite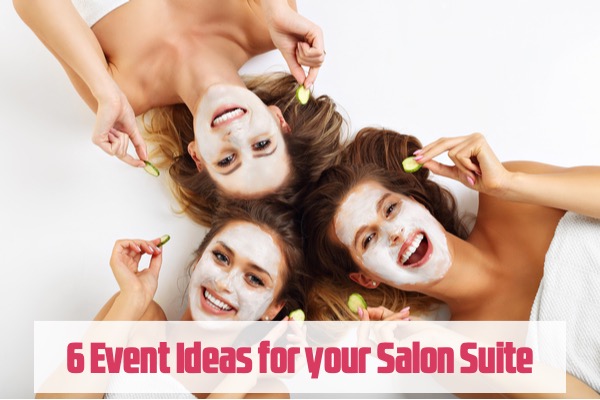 Hosting events for your salon suite is a unique, fun and exciting way to connect with your customers. It helps you stand out from the competition, establish your place in the community and build relationships with people. It can be hard to know what events will be successful, so we've created a list of six salon event ideas. These beauty salon party ideas are sure to be a blast!
1. Holiday Events
You can schedule events around many holidays throughout the year. Some potential ideas include:
New Year's Eve events where customers are styled for their evening parties. Or, you use your salon to host an NYE party for customers to come and celebrate with games and champagne.
A Valentine's Day event where you get pampered at the salon pre-dinner for your big date night.
A Christmas themed party where you hand out candy canes, gulp down spiked eggnog and do a Christmas basket giveaway.
2. Ladies Night
Consider promoting a Ladies Night for bachelorettes, birthdays or bridal celebrations. Groups of women can book your salon suite after hours to host a party full of pampering, cocktails and decorations.
Consider contacting local wedding vendors to notify them about your Ladies Night so they can promote it to future clients.
3. Mom's Night Out
We all know a mom out there that has been overstressed and overtired and needs a night off. Host a Mom's Night Out event where moms can purchase tickets to come and get pampered. The event can be a relaxing night of appetizers, cocktails, prize giveaways, games and music. This event has double the potential: moms will buy tickets for themselves, and partners might buy a ticket for their other halves as a gift.
Advertise your Mom's Night Out event at preschools and daycare centers to capture the right target audience.
4. Mommy/Daughter Day
Every mother loves her daughter dearly and wants to give her special experiences. Consider hosting a Mommy & Daughter Day where both can come in to get pampered. The promotion could be the daughter receives all services for half off the regular price. A fun touch could be to offer tea and pastries, so it feels like an elegant event.
Consider promoting or hosting this event close to Mother's Day. This way, daughters can purchase the treat for their moms.
5. Charity Events
Charitable events are an excellent way for you to give back to your community and make a connection. Find a charity you're passionate about and try to support them with an event. Some ideas include free back to school haircuts for underprivileged kids. Or, free haircuts to collect hair for Wigs for Kids. Or, just offer up your salon suite space to a charity for their upcoming event so they don't have to book a venue.
6. How to Events
You can host How To events and charge guests an entrance fee to get tutorials from your stylists. These events can be on any topic, such as flawless hairstyles in under 10 minutes or perfecting the complicated French braid.
If you're unsure of what customers want to learn, ask them! Create a  poll on your social media or ask your in-person customers to get some ideas.
Some Final Tips
We recommend starting off with one event per quarter. Plan early on in your year what your four events will be so you can start promoting them early. Remember that a lot of these beauty salon party ideas can be done after regular operating hours. That means you get extra business and increase profits without disrupting your regular client service.
Imagique Salon Suites
It can be difficult to understand how to get a salon up and running. Imagique Salon Suites gives owners access to fully stocked, decorated and conveniently located salons throughout Northern Dallas. You have all the setup done for you in terms of equipment and space, and you're left to decorate and start your own salon. If you're interested in this opportunity, contact us today for more information.