5 Actionable Tips For Improving Your Salons Digital Marketing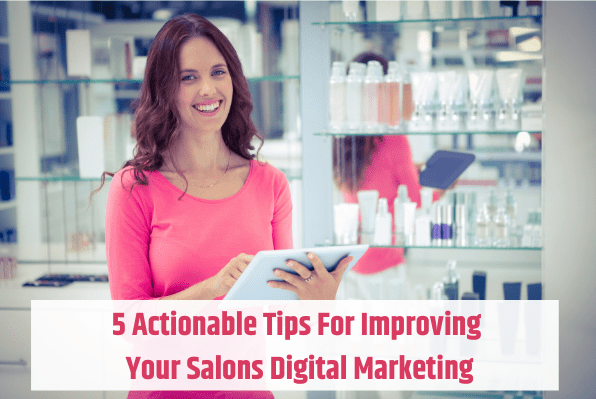 When it comes to salons, the competition can be fierce. In any given city, there are multiple salons on every busy retail street. Attracting new clients can feel like a never-ending process. One of the best ways to make your salon stand out from the competition is with digital marketing tactics.
These strategies can help you:
Engage with your current client base
Attract new customers that have moved into the area or don't know about your salon
Generate brand awareness for your salon suite in your community.
Here are our top five digital marketing strategies you should implement today for your salon suite.
1. List Pricing and Services on Your Website
In today's fast-paced world, people want to be able to access information quickly and easily. By listing your pricing and services on your website, you're providing a more convenient experience to your client. They'll be able to quickly assess if you provide the services they need, at the price point they can afford. It also allows them to plan what services to ask for.
Additionally, you'll reduce the time you spend answering phone calls about your services and prices, freeing up your time for other tasks.
An additional benefit is that listing your services on your website helps to improve your SEO. This will help your website be found for additional keywords in search engines such as Google & Bing.
2. Allow Clients to Book Online
It's a well-known fact that people don't make phone calls as much as they used to. If you don't have an online booking system, you might be losing up to 70% of potential customers in your industry. People want the convenience of booking online without having to call in and be put on hold.
An online booking system can also:
Increase return appointments by sending out "you are due for an appointment" reminder
Take payments
Reduce employee time spent on booking appointments via email or phone
3. Harness the Power of Social Media
It seems like every company out there has a social media presence now. But, for some industries, this tactic is more lucrative than others. For salons, social media can be hugely influential. The work done at a salon is very visual and translates well to social media. Additionally, many salons have a large customer base of young women, who are prominent users of social media.
Salon suites should have accounts on the most popular social media sites, such as Instagram, Pinterest, Facebook, and Tik Tok. As much as possible, post content from your salon daily. Posts can be of before and after shots, your full salon, or the decorations around your salon suite.
Encourage your clients to post and tag your salon after they come in for services. This allows you to engage with them outside of the salon. This will also increase awareness about your salon in the local area.
Social media is a free tool that can significantly increase the popularity of your salon suite if you dedicate the time to it.
4. Write a Guest Blog
With all it takes to run a salon, you probably don't have the time to run a blog. But, blogs are a useful tool that can attract new audiences to your website.
One workaround is to write guest blogs instead. Find a few beauty websites that take guest blog posts, write one post a month, and try to get it published. Make sure you include your salon information in every blog with a link back to your website. This will give you access to a new, larger audience that would have never known about your salon otherwise!
5. Get Online Reviews
Online reviews are incredibly important to local businesses. Approximately 15% of users report not trusting a business without reviews. And, more than half of consumers won't use a business unless it has at least a four-star rating. So, the key here is to get online reviews and to make sure they're positive.
You can get online reviews by:
Including links to your review pages (sites like Yelp, Google My Business, Facebook) on email receipts, appointment confirmations, and appointment follow-ups.
Including business cards at your salon entrance that encourage customers to review the salon.
Posting requests for reviews on social media.
Reminding customers, during their appointment, to review you online.
Start Your Salon Suite Today
If you're ready to start your Salon Suite, Imagique has three convenient locations throughout North Dallas. With Imagique, you can launch a salon without all the hassle. Imagique provides the place, the decorations, and many of the large supplies and necessities. Contact us for more information or to schedule a viewing today.