7 Steps To Reduce Salon No Shows and Missed Appointments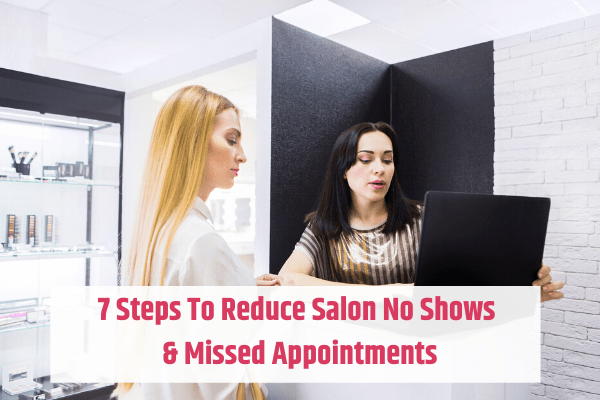 When it comes to running a salon suite, no shows can be like a thousand little cuts to your profit stream. A missed appointment is a lost opportunity to have another client in the chair. The average cost of a woman's haircut across the United States is $45. If you have just one missed appointment a day every day of the year, that's almost $16,500 in revenue loss. And, as most salon owners know, it's quite common for there to be more than just one missed appointment per day. Completely eliminating no shows is an impossible task. Accidents and emergencies happen that result in acceptable missed appointments. However, keep reading for seven steps on how you can reduce no shows for the unexcusable missed appointments.
1. Make Booking Simple
Clients expect simple and easy booking systems. Always having to call in for appointments or making appointments on the spot can be a deterrent. Clients may feel rushed and choose a date without really thinking about it. An online booking system improves customer service by allowing clients to see all appointment availability, decide which time truly works best for them and cancel if necessary.
2. Have a Clear Cancellation Policy
More and more businesses are implementing cancellation policies. While all clients may not love these policies, the simple fact of the matter is that they're effective. Establish a clear cancellation policy and circulate it to every client.
You can choose to:
Take a booking deposit
Require a credit card to be on file for booking
Charge anywhere between 20-100% for missed appointments within 24 hours of the appointment
After implementing a new policy, make sure to take customer feedback. If you're charging people $25 when they miss their $30 haircuts, it may be problematic. Take into consideration customer opinions on what they think is reasonable and fair. Of course, many customers who are charged for missed appointments think that any fee is unfair, so bear that in mind.
3. Confirm Appointment Bookings
Automated appointment bookings may seem redundant, but they're essential. Whether the client books in person, over the phone, or online, they should receive an email or text with their appointment details. This serves two purposes. First, the client can easily add the appointment details into their mobile calendar. Secondly, the client can catch any mistakes. For example, there could be a miscommunication about the appointment being on a Thursday or a Tuesday. When the client receives the email, they can instantly see they've been booked on the incorrect date and notify the salon.
4. Send Appointment Reminders
We've all done it. You're sitting at work thinking about what you're going to eat for dinner. All of a sudden, you get a text reminding you about an appointment you had forgotten. Approximately 62% of no shows are simply because the individual forgot about the appointment. Had they been reminded, they likely would have come in or rescheduled!
Whether it's via email, phone call or text, appointment reminders can be the saving grace for salon suite owners. Make sure you send out the reminder within the cancellation window, and make canceling the appointment easy.
5. Build Relationships With Your Clients
When your clients know you as a person and respects you, they'll be less likely to waste your time. Building a genuine relationship with your clients creates customer loyalty and will help with client retention. When you take care of them, they will want to do the same for you.
If you feel comfortable, you can even mention to them how costly and ineffective it can be when clients are late or miss appointments. If they take the hint, they'll never miss another one!
6. Track Trends and Patterns for No Show Clients
With any business, data can give you many answers. You can track trends for when clients are most likely to miss appointments. If it's always on Sunday mornings, you can implement solutions such as extra reminders for Sunday appointments.
Or, you can notice patterns, such as a client who never opens emails. This can indicate a new email address, meaning they're not receiving their appointment confirmations or reminders.
If you rent out a chair in your salon suite, you can notice trends such as your secondary hairstylist is getting all the missed appointments. This indicates a more significant problem and that your employee is costing you clients.
7. Create a Repeat Offender "Bad Client" List
It can be beneficial to have a list of "bad clients" who regularly miss appointments. If your salon suite doesn't have a cancellation fee, you can charge clients that have missed more than three appointments. Or, for repeat offenders, you can send them double the reminder emails in the hopes that it will increase their attendance rates.
Every hour your business is open, and someone isn't in your chair costs you money. As a salon suite owner, the responsibility falls on you to decrease missed appointments. A few simple changes can be the difference between double-digit no shows per week to just one or two.
Imagique Salon Suites
Are you interested in renting a salon suite in the Dallas area? Imagique Salon Suites has everything you need to kickstart your beauty career. We have three convenient locations in North Plano, South Plano, and Richardson, Texas. Here at Imagique Salon Suites, we are a full-service salon that offers 24/7 access, commercial-style laundry rooms. We also provide a break room and a variety of other beneficial perks. Are you ready to start your journey to greatness? Contact us or complete an application today. It's time to love what you do.