How to Improve Your Customer Service at Your Salon Suite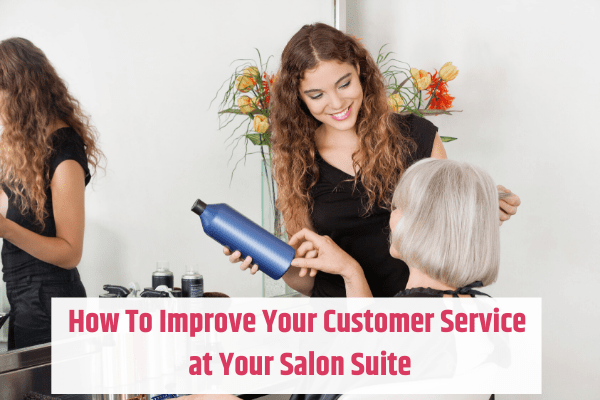 One of the most important aspects of running a salon suite is customer service. Your customers come into the salon for an enjoyable experience and expect a certain quality of service. Poor customer service can significantly impact your business and result in customer complaints. Through word of mouth and online reviews, a reputation for poor customer service can travel quickly. A dissatisfied customer will tell anywhere between 9-15 people about their experience, which could take a lot of undoing.
Keep reading to find out how to improve the customer service experience at your salon suite:

1. Establish a Good Means of Communication
A salon management system can help automate your communications with your customers. Your clients can easily book online, change or cancel appointments, and see your salon's availability whenever they want.
A salon scheduling system serves both you and the client. You are able to make the booking process easy for customers. In turn, you have happy customers that are more likely to show up to all appointments.
2. Acknowledge Your Clients
While you will always do your best to stay on schedule, sometimes appointments run long. In an effort to make sure your customer is happy with their service, your next appointment may be left waiting. No one likes to wait, but worse than that is not being acknowledged. Take a moment to say hello to anyone that enters the salon. You can go over, introduce yourself (if it's a new client), explain the situation, and give an ETA on their wait time. Most people will be understanding and will feel fine after you've acknowledged their presence and the importance of their time.
3. Offer Complimentary Beverages
The salon suite industry is competitive. You can stand out from the competition with little details that make your salon memorable. For example, many salons offer complimentary water to clients. You can elevate this by offering a selection of complimentary beverages. Keep an area stocked with tea, coffee, juice, water and soda. This has a fairly small business cost to you but can differentiate your salon in the customer's mind.
4. Send Follow-Ups and Appointment Reminders
We already mentioned the salon scheduling software. However, make sure to find a system that can send automatic reminders. After a client books an appointment, they should receive a confirmation email. Confirmation emails can help clients spot mistakes they may have made and reduce missed appointments. A simple example might be that they accidentally booked on a Tuesday when they meant a Thursday.
Additionally, you want to send out reminders to clients about their upcoming appointments to reduce the number of no-shows. No-shows are an expensive opportunity cost if you turn away walk-ins because you think you have a client coming in. Even one no-show per week, at an average service cost of $60, can cost your business over $3,100 per year in lost earnings.
You can also send reminder emails to clients when they need a trim or a touchup. This will increase the customer's frequency of appointments.
5. Show Your Clients that You Care
Clients that feel appreciated are more likely to establish a long term relationship with your salon suite. You can show your clients that you care with small efforts, such as:
Sending them a Happy Birthday message
Remembering their names
Remembering their service preferences
Asking them for input and feedback
Showcasing them (with their permission) on social media
Genuinely caring that they leave your salon suite happy with the services
Imagique Salon Suites
Are you interested in renting a salon suite in the Dallas area? Imagique Salon Suites has everything you need to kickstart your beauty career. We have three convenient locations in North Plano, South Plano, and Richardson, Texas. Here at Imagique Salon Suites, we are a full-service salon that offers 24/7 access, commercial-style laundry rooms. We also provide a break room and a variety of other beneficial perks. Are you ready to start your journey to greatness? Contact us or complete an application today. It's time to love what you do.