Five Ways To Enhance The Client Experience In Your Salon Space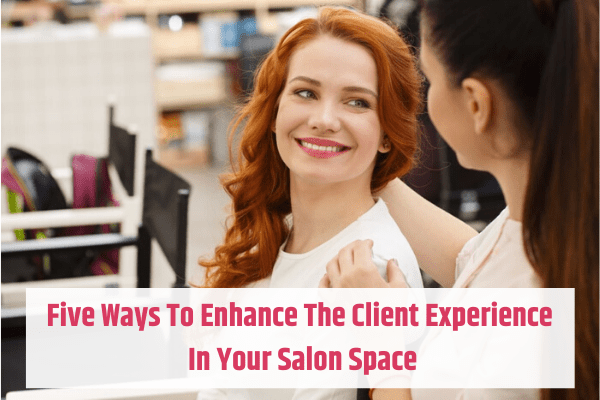 Aside from the actual haircut, the second most important aspect of going to the salon is the experience. For the average person, a visit to the hair salon is a luxury experience. Clients may receive a fantastic haircut, but if the overall encounter was lackluster, they're unlikely to return. Keep reading for five easy ways you can enhance the client experience in your salon space today.
1) Create a Pleasant Ambiance
They say nothing beats a first impression. When a client walks in the door, you want them to feel comfortable. Small details like music playing, fresh flowers at the entrance, and a bright, clean space can have a lasting impression. If at all possible, it can make a big difference to have someone at the front to greet everyone who walks through the door. Anything you can do to make the customer feel welcome in your space.
2) Have a Great Communication System
In today's digital world, people have no patience for poor communication. Customers expect a fast website with an online booking system that is easy to use and allows them to make changes online. Additionally, sending confirmation emails or conducting calls about upcoming appointments can reduce the number of customers missing appointments. Also, consider using a software management system that can send reminders to clients that haven't been back in a while.
3) Offer Refreshments
Not a lot of salons offer refreshments, and sometimes when they do, they're not free. Make your clientele feel like they're receiving the Hollywood treatment with complimentary drinks. Stock a mini-fridge with a wide range of options so each customer can choose what they prefer.
If your state allows it, consider obtaining a liquor license, and offer cocktails to your customers. This is a great way to capture the bridal markets. With simple cocktails such as mimosas, your expenses will be low.
4) Create a Rewards Program
It is usually 10 times more expensive to try to acquire a new customer versus keeping an existing one. Repay your loyal customers by offering them rewards. An incentive program can be structured around referrals or return visits for discounts on subsequent hair treatments. Even if it's a small reward or discount, it can be highly effective. People love to feel that they're getting a good deal and that their loyalty is recognized.
5) Collect Reviews
Collecting reviews has two purposes. Firstly, you are gaining valuable feedback from your customer base. Filling out review cards allows people to be more honest than they would typically be in person. When people mention areas of improvement, you can implement those changes immediately. This way, your salon continues to improve, and your clients see issues addressed.
Secondly, you can leverage reviews to gain new customers. If you request online reviews, it can serve to build up your reputation online. People trust online reviews as much as a recommendation from a friend. Having a strong online presence with many reviews is a sure way to build up your business. Alternatively, having no reviews online may cause you to lose customers. People want to see reviews as an assurance they're choosing a worthy place.
It doesn't take too much effort to enhance your salon space. Small, unique changes can make your salon stand out from all the competition. Put yourself in your customer's shoes and ask yourself what you would appreciate if you were coming in for an appointment?
Interested in a Salon Space for Rent?
Are you interested in renting a salon suite in the Dallas area? Imagique Salon Suites has everything you need to kickstart your beauty career. We have three convenient locations in North Plano, South Plano, and Richardson, Texas. Here at Imagique Salon Suites, we are a full-service salon that offers 24/7 access, commercial-style laundry rooms. We also provide a break room and a variety of other beneficial perks. Are you ready to start your journey to greatness? Contact us or complete an application today. It's time to love what you do.