Considering Renting A Salon Suite?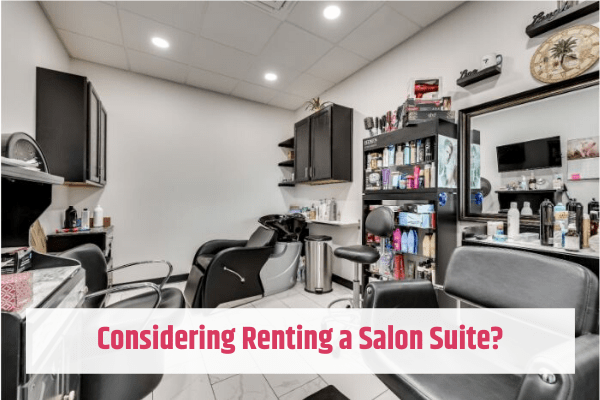 You've been considering renting a salon suite for months. You haven't entirely sold yourself on putting your signature on the dotted line, right? All beauty professionals have been where you are. There is a difference between renting a salon booth and renting a salon suite. Consider these salon suite rental basics before committing to a lease.
3 Factors to Consider Before Renting a Salon Suite
1. Crunch the Numbers
Before you get your heart set on a specific salon suite location, you need to decide how much money you will charge clients. You also need to estimate your expenses.
Deciding What to Charge
In addition to your base rate, factor a percent of your rent to help you determine a reasonable rate. Other factors you need to consider include insurance, supplies, and management tools.
Estimating Your Expenses
You need to determine your start-up costs and weekly and monthly expenses. Start-up costs include, but are not limited to credit card setup fees, vendors and suppliers, and deposits due at lease signing. Other start-up costs include inventory, retail, and furniture.
Weekly and monthly costs you need to consider include laundry, rent, taxes, and supplies. Set aside money for a rainy day fund in case of an emergency.
Calculate Everything
Everything you will pay for on a daily, weekly, and monthly bases need to reflect in one total.
For example:
| | | | |
| --- | --- | --- | --- |
| Rent | $340 | Furniture | $400 |
| Licensure | $70 | Supplies | $300 |
| Quick Books/PayPal | $15 | Rainy Day Savings | $250 |
| Online/Website Booking Fees | $30 | | |
Gross Income: $6,111
Total Expenses: $1,405
Profit (Pre-Tax): $4,706
Filing taxes for your business requires an IRS Federal Employer Identification Number (EIN).
2. The Lease Agreement
Don't sign a lease without thoroughly reading it. Get advice from a lawyer before signing to be on the safe side. Depending on who you rent your salon suite from and where can cause the information to vary. Lease information can include equipment and decoration terms, such as painting. Other lease information terms can include conditions for upgrades, repairs, and paying utilities.
3. Create Your Schedule
One of the advantages of being the boss is flexibility. You set your hours of operation according to the needs of your customers. Pay attention to the times you are the busiest and the least busy. Set your work hours accordingly to maximize your profits and give your customers what they need.
What is the Difference Between Renting a Salon Suite and Renting a Salon Booth?
As a salon booth renter, you are an employee in an established salon. As an employee, the advantages include
Leaving the ins and outs of business operation to the owner of the salon
Continuous education and guidance to maintain your cosmetology license and staying current on new technology and methods for styling
Another stylist can cover your shift in you have an emergency
Disadvantages
Lack of freedom. The owner of the salon dictates your work schedule
You may be forced to use the products the salon owner like instead of using styling products you enjoy
As a renter of a salon suite, the advantages include
Being the boss. You don't answer to anyone
Decorating your space the way you want
Setting your hours of operation
Using the products you want
Freedom to set your prices
Earning more income
The disadvantages of renting a salon suite include
Keeping track of business account (Using a platform, such as Quick Books can help)
More expensive start-up costs, including advertising and supplies
About Imagique Salon Suites
Are you interested in renting a salon suite in the greater Dallas area? Imagique Salon Suites has everything you need to kickstart your beauty career. We have locations in North Plano, South Plano, and Richardson, Texas. Here at Imagique Salon Suites, we are a full-service salon that offers 24/7 access, commercial-style laundry rooms. We also provide a break room and a variety of other beneficial perks in desirable locations. Are you ready to start your journey to greatness? Contact us or complete an application today. It's time to love what you do.