Why is a Salon Suite Better Than a Booth Rental or Standard Salon?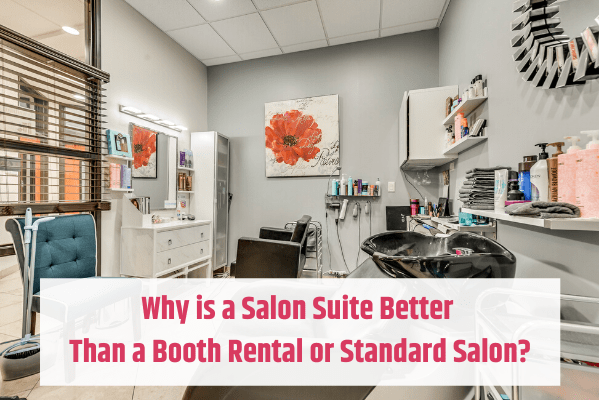 As a stylist, you know that you work hard and your clients love you. Why not take the plunge and start working for yourself? When you become your boss, you take control of your finances and your schedule.
Many stylists will consider a salon suite rental or a booth rental as the next step in their professional career. If you're not sure of the differences between the two, keep reading. We have broken down the advantages and disadvantages of each option.
Privacy Versus a Team
You should consider whether you want to work with a team or give your client's privacy. Stylists that rent a chair often love being part of a busy atmosphere and develop friendships with the other stylists. Additionally, working with other stylists is a great way to learn.
However, those who have a suite salon rave about being able to customize the experience for their clients.
You can have an open conversation with your client without having others overhear. And, you can personalize the experience by playing the client's favorite genre of music. Most importantly, you can decorate the space to reflect your vision and personality.
You're also not tied to how other stylists maintain the space. If other stylists are particularly messy, it can ruin the overall experience for your regulars. A salon suite renter only has to worry about their mess.
Salon suite renters also don't have to share equipment! There's nothing worse than asking your client to wait a few minutes while you wait for all the hair dryers to free up.
Shared Responsibilities Versus Taking Charge
You hold more responsibility with a suite salon; you have to answer the phone, book appointments, process payments, and attend to clients! For the right personality, these are exciting steps to taking control of your business. Yes, it's more work, but the financial gains and freedom are critical factors. Even small changes, such as being able to sell products you love, are tremendous. You can recommend clients products you've vouched for personally. This will only build the trust between you and your clients.
Commission Versus Additional Costs
Let's talk finances. Renting a chair means you'll owe commission fees to the salon. However, you should know that renting an entire suite salon is more expensive. And you have to carry these costs yourself.
You should also consider the additional costs that can occur. Renting a chair means you benefit from the shared advertising of the salon. As a salon suite renter, you'll need to take on costs such as advertising and even doing your salon's laundry.
When renting your own salon suite you no longer have shared revenue. Every client that you are able to bring in, you keep 100% of the revenue and resulting profit.
Flexibility
While a booth rental will still have flexibility in your schedule, it's not quite as flexible as renting an entire suite salon. A booth rental will typically ask that you work a minimum of hours or days per week, or bring in a minimum amount of clients. With a suite salon rental, you can truly (for the first time) make your own hours.
Ready to Become Your Own Boss?
For stylists in the Dallas area that are ready to take the next step, apply to lease with us. With desirable locations in Plano and Richardson, Imagique Salon Suites can make becoming your boss a reality. Stop letting others profit off your talent and your hard work! Contact Imagique Salon Suites today for salon suite options.