5 Benefits of Starting Your Own Salon Suite Business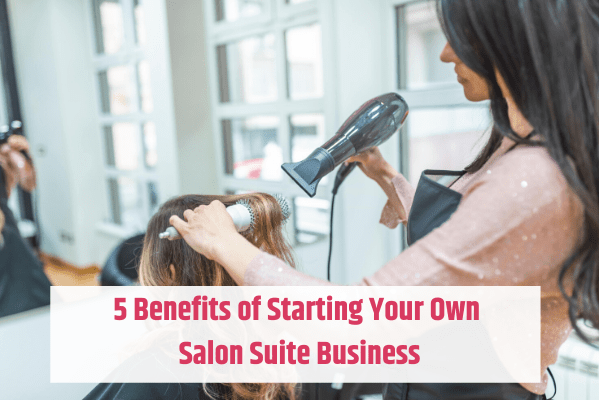 At some point in any hairstylist's career, they begin to think about their long-term goals. Working in a salon allows you to make a decent wage and great tips. You get to have a regular schedule without too much concern about if the salon is turning a profit. However, working in a salon can be taxing. You often have to work long hours, there's little to no flexibility to your schedule, and you get involved in salon drama. Don't forget owners hounding you to drum up business and having to follow salon rules on how to treat your clientele.
Luckily, there is a solution out there. Salon suites have been sweeping the nation as a great solution for stylists who want to strike out on their own. And there are many benefits to starting a salon suite business.
1) Be Your Own Boss
Starting your own salon suite allows you to be in control and have freedom for the first time. You get to make every decision for the business, from the decorations to the treatment of clients. You can design your suite in a way that reflects your style and personality. Additionally, you can sell products that you genuinely believe in and feel comfortable recommending to your clients.
2) Flexibility
Being your own boss means, for the first time in your life, you will be in charge of your own schedule. You can dictate how many clients you take per day and how long each client gets for their appointment. And, you can even take a few weeks off when you need a break. Owning a salon suite can be the perfect opportunity for work/life balance. Whether you're a parent, love to travel or are a student, being a salon suite operator lets you be flexible with your schedule.
3) Make More Money
Many people who have chosen to switch to a salon suite report making double or triple their previous income. Not only do you get to keep all the profits of the salon, but you also get to keep the profits from product sales too. You dictate your own schedule and your business, so ultimately your success will be in your own hands. Need more money for one month? Keep your salon open longer and run promotions. Having a particularly flush quarter for sales? Choose to shut down the salon for a week and go on a spontaneous vacation because you can afford it. It's all in your hands!
4) Help Your Clients Your Own Way
Every hairstylist has experienced it. You work at a salon and find yourself thinking, "I would never run this place that way." It's salon owners that have made you use the cheap shampoo for washes or rush clients because of back to back appointments. You believe your clients deserve better, and you wish you could treat them the way you want to. Owing your own salon suite allows you to do so. You can pamper clients and add your touch to their overall customer experience.
5) Minimal Risk
Starting your own business requires a lot of upfront money and can be risky. Approximately one-third of new businesses fail in their first two years of operations. Owning your own salon suite is like starting a business without all the risk. You get more freedom than just renting a chair, but you don't need to pay for all the upfront costs. For example, most salon suites come with furniture and some equipment. At Imagique Salon Suites, your location comes stocked with shampoo bowls, styling chairs, hood dryers, a laundry room, a TV and a refrigerator. You're only left to decorate the salon suite as you want!
Imagique Salon Suites
Are you interested in renting a salon suite in the Dallas area? Imagique Salon Suites has everything you need to kickstart your beauty career. We have three convenient locations in North Plano, South Plano, and Richardson, Texas. Here at Imagique Salon Suites, we are a full-service salon that offers 24/7 access, commercial-style laundry rooms. We also provide a break room and a variety of other beneficial perks. Are you ready to start your journey to greatness? Contact us or complete an application today. It's time to love what you do.