How to Retain Your Salon Clients When Moving to a New Location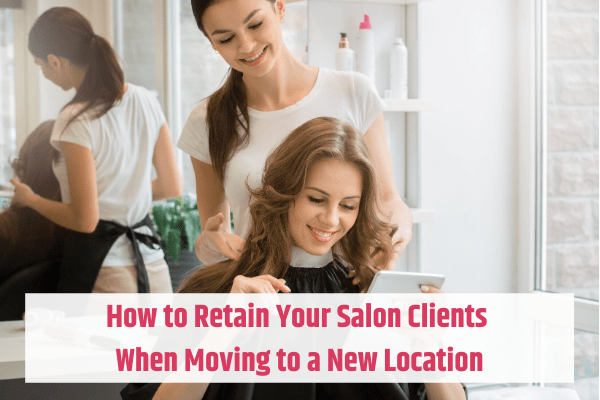 When a business owner decides to move locations, it's never an easy decision. Sometimes, the choice is forced upon you with rent increases or construction. Or, sometimes, you just need a fresh start for the salon. Whatever the reason, you naturally may worry that you'll lose clients with the move. We've compiled six tips for you to retain your clients when you move your salon suite to a new location.
1. Send Postcards and Use Flyers
This is a two-step approach. Print flyers with all the information about your new location before you move. During the last month or two in your old salon, hand out these flyers as a reminder to each customer. The customer can take the flyer with them, so they'll know where to go when they book a new appointment with you.
After you move, send out postcards about your new salon. Send this postcard to every customer that you have an address for. This postcard should have a picture of the new salon, enticing clients to come in. Include important information such as the new address, business hours, directions, and any services or benefits of the new place (such as free parking). Add a personal touch to the postcard by hand addressing each one yourself.
2. Inform Current Clients ASAP
You should start warning your clients as soon as you can about the move. Especially if you are moving to a new location quite far from your old space. This allows clients to prepare themselves. For example, maybe a client that used to work nearby would come in for lunch appointments quite frequently. With the new location, lunch appointments may no longer work, and they'll need to rebook for evenings. Approximately one month before you move, start calling your future appointments and reminding them about the new location.
3. Offer a Discount For the First Visit at the New Location
People don't love change, so you have to incentivize them to accept the new salon location. You can do this by offering a discount for their first visit to the new salon suite. Promote this as a customer loyalty program. If you're moving a significant distance from your current location, you'll need a substantial discount to convince people. And, after they see the new place once, they'll keep coming back!
4. Use this Opportunity to Strengthen Your Referral Program
Hopefully, you already have a fantastic referral program. Changing locations is a perfect time to revamp the referral program. You can mention to clients you have new incentives for referrals that come to the new salon. Consider a promotion such as bring a friend, book the same services, and both people receive 20% off.
5. Post Photos and Updates about Your New Location on Social Media and Your Website
There's no doubt your new salon space will be an upgrade. After the move, show the benefits of the new location on your social media accounts and your website. If you've redecorated, have more space, or more light, make it known! Show pictures that are fun and inviting so people want to book an appointment.
6. Update Your Address on Yelp, Google My Business, Facebook, and all third party listings.
This is a step that many small business owners simply forget. It takes just a few minutes to make an address change on these online platforms. This change is essential for any customers that weren't aware of your move or lost your new business address. Additionally, this will open up the opportunity for new clientele around your new area. When people search "salon near me," your salon suite will accurately show up.
Revitalize Your Business Today By Moving to an Imagique Salon Suite
Imagique Salon Suites have three different locations throughout Northern Dallas. Our salons have contemporary designs with porcelain tile, granite, and plenty of windows and natural light. Get the feeling of a luxury rental space at an affordable price. Contact us today for more information.