5 Tips For Salon Suite Owners To Manage Stress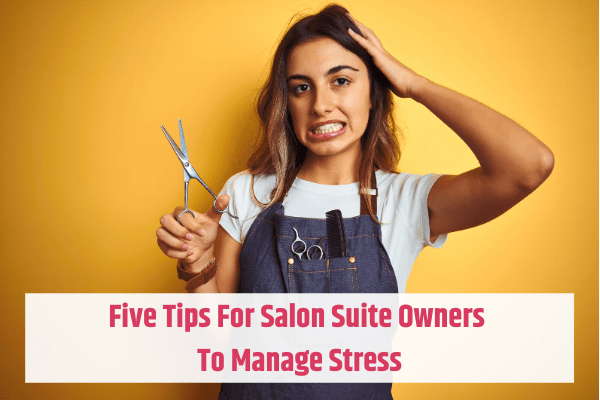 No one is exempt from having to deal with social, economic, or personal challenges at some point in their lives. And, these types of challenges can feel that much more difficult for the small business owner. The small business owner is reliant on themselves for income. They have to learn how to manage stress and anxiety for the sake of their business and their livelihood so that business isn't affected. If you're a salon suite owner that's feeling stressed, these five stress management tips should help!
1. Be Decisive and Solve Problems Quickly
A tip that seems obvious, but is crucial, is to be decisive and stick to your decisions. When a problem arises, quickly evaluate your options, make a decision, and move on. When you second-guess your choices or take too long to assess options, you begin to question everything. Even if you don't make the right decision, you can make sure to learn from your mistakes. This is a better alternative than planting seeds of doubt in your mind about your ability to be a successful business owner.
Additionally, try to delegate smaller decisions and tasks to other employees. You can trust your employees to count inventory or book client appointments. This leaves you with more time and energy to focus on the bigger decisions that deserve your attention.
2. Hire Temporary Help
You may need to take a moment to evaluate why you're so stressed with your salon suite. If you don't have the time to take care of simple tasks, such as answering the phone, you may need help. If you're not ready to commit to hiring on another permanent employee, consider temporary assistance. College students are often looking for work that is minimal hours. Or a local temp agency can help you recruit for just a few shifts. You may be surprised how an extra set of hands helps you get everything back on track.
3. Automate & Use Scheduling Software
We have talked about the importance of scheduling software before. A scheduling software system helps you automate the booking process for both you and your clientele. Your clients can easily book online, see available time slots, receive appointment reminders, and more. This works to give your customers a better experience, helps your salon appear more professional, and helps you reduce missed appointments. It can also help increase your revenues by reminding customers when they're due for a haircut.
Once you get a scheduling software up and running, you will be taking an entire portion of your operations off your shoulders.
4. Stay Organized
Staying organized applies to two aspects of your business: the business details and your salon space. First, you need to make sure your salon space is clean and organized at all times. This gives your customers a more enjoyable experience and makes you look more professional.
Next, you need to keep your business details organized. For most small businesses, finances and cash flow are a point of stress. If you're uncertain of how to run your finances, do your business taxes, or create a budget, hire professional help. By having a professional do the work correctly, you can avoid potentially huge mistakes or oversights. You can also learn from the professionals, so you can eventually take on this task by yourself (if you wish).
5. Create an Emergency Fund for Your Business
In personal finance, professionals encourage people to have an emergency fund. Well, the same is true for business operations. You should always have cash set aside to pay for unexpected expenses and economic downturns. This way, when these problems arise, you aren't scrambling for a solution. Ensure you have three months to a year's worth of business expenses saved up for your emergency fund.
IMAGIQUE SALON SUITES
Are you interested in renting a salon suite in the Dallas area? There are many reasons why starting a business in the North Dallas suburbs has its advantages. Imagique Salon Suites has everything you need to kickstart your beauty career. We have three convenient locations in North Plano, South Plano, and Richardson, Texas. Here at Imagique Salon Suites, we are a full-service salon that offers 24/7 access, commercial-style laundry rooms. Contact us or complete an application today. It's time to love what you do.