10 Tips for Increasing Salon Sales (Summer 2020)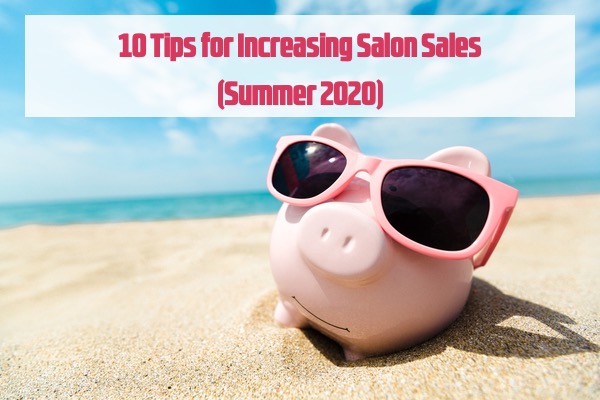 Running a salon suite business in 2020 has definitely come with its challenges. No matter what is happening in the world, people still need regular haircuts and styling appointments for special events. Now more than ever, it's important to understand how to grow your salon business. These ten tips will teach you quick, practical ways to build your client base and increase salon profits.
1. Run a Contest
Throw a contest to garner some local attention for your salon suite. There are a few ways you can approach this, but it can be really worthwhile. You can encourage clients to post before and after pictures on social, tagging your account. Next, have your audience pick a winner, and that person gets a discount or free perk at your salon. You will get more followers on social media, get more engagement online and increase brand awareness for the salon suite. And hopefully, you'll get some new clients too.
2. Giveaways
Next, try a giveaway to get engaged with your client base. Make a basket of the products you sell in your salon suite and wrap it up nicely. You can collect email addresses from clients as a draw to win the basket. Clients who follow you on social media can get an extra draw towards the prize. This way, you can:
Grow your email list (to share future promotions with clients)
Grow your social media following and brand awareness
Share on social that you're hosting this giveaway. Encourage people to make an appointment over two weeks, so they can enter the contest when they come into the salon.
Pro Tip: For this contest to be compelling, it should be a great giveaway full of products that people actually want to win.
3. Offer Summer Deals
You can get some new clients in the door with summer deals that pique their interest. For example, offer prom, graduation, or wedding group discounts at 15% off for the entire group. Or, run a promotion that you are willing to open the salon suite early for private bookings for weddings. These promotions can draw in a crowd that otherwise may not have found your salon.
4. Start a Blog
They say for a blog to be successful you should write about what you know and what you love. You likely started a salon suite because you love hair, so you should start writing about it! Writing a blog can have your website rank higher for local keywords, such as "salon North Dallas." When your website appears higher in search results, it's guaranteed to increase website traffic and appointments.
However, you need to make sure you're constantly uploading new blog posts for this strategy to work. We recommend aiming for one to two posts per week. You can write them in between clients or first thing in the morning with your cup of coffee.
5. Offer New Products and Services
No matter what the industry is, it's always essential to stay ahead of the competition. When people visit a salon, they want to know that the business is trendy and stylish. If you notice an increasing demand for new services, such as microblading, incorporate that into your services. Or, if you see trending products, such as collagen-infused hair products, try selling them at your store.
New products or services can be a great upsell to your customers' regular appointments.
6. Create a Loyalty Program
A great loyalty program will increase your customer retention. If you reward your clients, they will choose you over trying out a competitor any day. Some examples of loyalty program ideas are:
A punch card where the haircut on every 10th appointment is free
A free blow-dry after five appointments
After spending $100 on products, the client receives a coupon of $20 off on any product or service in your salon
These small initiatives can keep clients making appointments more regularly than usual, so you can increase salon profits.
7. Create a Referral Program
Your loyal customers are the champions of your business. They are the ones who will recommend you to friends and family, but sometimes it helps to give them incentives. Promote a referral program to all your clients. For example, every time a referral comes in for an initial appointment, the referrer gets 10% off their next service. This is a great way to leverage your customers and grow salon business.
8. Get Feedback From Clients
We are all human and sometimes we're blind to our mistakes. You may want to offer the best service possible to your clients, but you may be completely unaware of a mistake you keep making. A great business owner wants to hear feedback so they can continue to improve the client experience. You can use polls or surveys to collect anonymous, genuine feedback that will help you refine where needed. It can be as simple as finding out that customers want a reminder email the day before about their appointment.
Make sure to offer some form of compensation for completing the feedback, such as a $5 coffee gift card.
9. Get Creative on Social Media
A strong social media presence can be what turns your salon suite to the "it" spot. Social media is a great way to connect, engage, and remind your clients of all you can do. You have to stand out from the competition, though, because almost all salon owners understand the importance of social media. Get creative and try to stand out from the other salon accounts. You can go live to show a bold hairstyle being done from start to finish. Or, collaborate with models or hair product brands to gain more brand awareness.
10. Host Special Events
Try to make your salon stand out by hosting special events. For example, you can host a "Mommy Pamper Day" for local moms. Or, a charitable event where you offer free haircuts and donate the hair to a good cause. These types of events can get you recognition in your local community.
Imagique Salon Suites
If you're ready to be a salon owner, Imagique can make your dream come true quickly and easily. With Imagique, you run a fully equipped and decorated salon at one of their three convenient North Dallas locations. Start running your own business in no time at all. Contact us today for more information.